Welcome
The Alberta Institute of Power Engineers (AIPE) is an organization dedicated to the advancement, education and support of all Power Engineers in Alberta. The IPE, being the representing body for Power Engineers in Alberta, interacts with Industry, other Technical and Professional Associations, and with various Municipal, Provincial and Federal Jurisdictions in support of Power Engineering within Alberta. The IPE is "the voice" for Power Engineers in Alberta. Becoming a member not only strengthens the IPE as an organization, it ensures your valued input regarding matters of concern to Power Engineers in Industry, and at the Municipal, Provincial and Federal levels.
All of Alberta's IPE Members take this opportunity to welcome all visitors to this web site. If you are a visitor please sign the guestbook, and on the same page you are encouraged to make a comment, ask a question or start a discussion. The IPE also encourages regular e-mail communication to the organization.
Thank you for your interest in the AIPE and Power Engineering.
---
Alberta Institute Of Power Engineers, Calgary, Edmonton Branches support the Employers of Power Engineers in Alberta.
Your support of hiring and using Practicum Students from all Educational Institutions across Alberta enhances your professional status as an employer. These students, highly educated and motivated are the feedstock to your sucess to not only to Alberta but to the Power Engineering Profession.
We as an organization continue to adhere to the safe and efficient operation of all Power Engineering activites in the Alberta Area.
---
Latest News & Events
January 2021 Alberta Area Meeting
posted online January 5, 2021
Conversation with the Chief Inspector
January 21, 2021, 6:30-7:30pm Zoom Online
For circulation to all members of AIPE.
We are pleased to announce some new virtual content for you to start the year. Thursday, January 21st at 6:30pm we are happy to invite the Chief Inspector at ABSA, Mr. Mike Poehlmann to join us on Zoom Online.
This is a great opportunity to hear some perspective from the Chief Inspector and we want to add your questions to the conversation. Please let us know if you are interested in joining us on Zoom on January 21st 2021 and if you are so inclined please include a question for the Inspector that we may review a number of these. This is a great way for us to increase the quality of conversation and to get some interesting persepctives back out to you the members.
Please RSVP if you are interested in attending this Zoom Online meeting. Members and student members are welcome to attend.
Merry Christmas 2020
posted online December 30, 2020
From the incoming Edmonton Branch President:
Merry Christmas to everyone. As the new Edmonton Branch President I would like to share a short message with you. 2020 has been a trying year, and as most of you, I'm looking forward to 2021 and an end to this pandemic. For power engineers, many of you maybe working shifts through Christmas and we salute you! And thank you!
In the new year we are trying to setup some interesting sessions, which due to circumstances, will be virtual for the beginning of the year. Please stay tuned to notices.
All the best, be safe and healthy
Thanks,
John
John H. Dyck, PE | Executive President
Alberta Institute of Power Engineers | Edmonton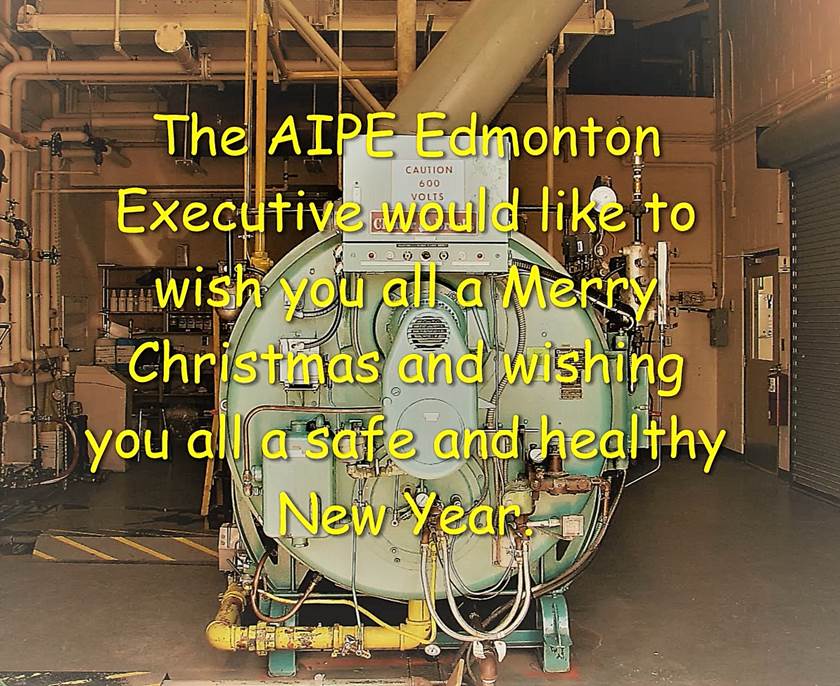 ABSA The Pressure News
posted online October 27, 2020
For circulation to members of AIPE.
Please be advised that the following newsletter is issued and posted on the ABSA website. Links below to it and the related material.
October Branch Meeting – Zoom Online
posted online October 18, 2020
Location: Zoom Online
Special Guest: Mr. Henry Hau, PE
Date: Thursday, October 29, 2020
Time: 6:30 PM
Well things are evolving at the IPE, and we are pleased to announce we will be starting up with meetings again. Considering we are registered with the Province of Alberta under the Societies Act; social distancing has had a real impact on our organization. I am optimistic things will improve (eventually) but for now we will adapt as we are able, and we are pleased to announce we have some content to share with you this Fall.
Please join us online with Zoom on Thursday, October 29, 2020 at 6:30pm. Our special guest will be Mr. Henry Hau, PE. Henry is one of our most senior IPE members in Alberta and sits on the board with the Pressure Equipment Sub Council. In his presentation Henry will talk in detail about what the PESC does, how it works and why it is important for us to have a pressure equipment safety committee.
Please RSVP if you are interested in attending and I will add your email to the list for meeting invites. I look forward to your response.