Welcome
The Alberta Institute of Power Engineers (AIPE) is an organization dedicated to the advancement, education and support of all Power Engineers in Alberta. The IPE, being the representing body for Power Engineers in Alberta, interacts with Industry, other Technical and Professional Associations, and with various Municipal, Provincial and Federal Jurisdictions in support of Power Engineering within Alberta. The IPE is "the voice" for Power Engineers in Alberta. Becoming a member not only strengthens the IPE as an organization, it ensures your valued input regarding matters of concern to Power Engineers in Industry, and at the Municipal, Provincial and Federal levels.
All of Alberta's IPE Members take this opportunity to welcome all visitors to this web site. If you are a visitor please sign the guestbook, and on the same page you are encouraged to make a comment, ask a question or start a discussion. The IPE also encourages regular e-mail communication to the organization.
Thank you for your interest in the AIPE and Power Engineering.
---
Alberta Institute Of Power Engineers, Calgary, Edmonton Branches support the Employers of Power Engineers in Alberta.
Your support of hiring and using Practicum Students from all Educational Institutions across Alberta enhances your professional status as an employer. These students, highly educated and motivated are the feedstock to your sucess to not only to Alberta but to the Power Engineering Profession.
We as an organization continue to adhere to the safe and efficient operation of all Power Engineering activites in the Alberta Area.
---
Latest News & Events
December Dinner Party
posted Nov 4, 2019
Location: Radisson Hotel Edmonton South
4440 Gateway Blvd
Edmonton, AB
Date: Saturday December 7, 2019
Time: 5:30 PM cocktails; 6:00 PM dinner
Parking: Please register your vehicle with the front desk. Topside parking for full size vehicles, underground small vehicles only.

Good morning everyone. Ok for our next meeting we are pleased to announce our annual holiday dinner meeting at the Radisson Edmonton South. On the very popular buffet menu is seafood, prime rib and turkey, including all the trimmings. We keep coming back here because the food is so good.
Please brave the cold to join us on Saturday December 7th for an evening of delightful company, food and drinks. Cost per person is for Adults $52 and Seniors $46 (wisdom does have its rewards). This includes all taxes and gratuity. The only thing not included is drinks which are extra.
RSVP please if you are planning to attend as the space is limited. Donations for the Edmonton Food Bank are also welcome.
November Branch Meeting and Guest Speaker
posted Nov 4, 2019
Location: NAIT Main Campus, Building C, (Room TBA)
10828 118 Avenue, Edmonton, AB
Date: Tuesday, November 19, 2019
Time: 6:30 PM
Parking: $5 NAIT Student Parking Lot C, 10828 118 Avenue, Edmonton, AB
PPE : None required
This month we have a special guest visiting. They are preparing a special presentation for us, talking about industrial compression. Many of us are familiar with air compressors used around the shop or in home renovations or perhaps you have seen large electric units used for instrument air supply in a plant. What's interesting about industrial compression is there can be almost no limit to how large or powerful some of these units can get. We will look at some examples and learn a bit about what makes them tick.
In addition, we will be holding a general meeting to discuss branch business and there is lots to talk about this month. On the table will be membership awards, recognizing outstanding members of the branch, as well as branch committee nominations for the coming year, and an update from the IPE Ontario Chief Power Engineers Education Conference held recently in Toronto.
Anyone with interest is welcome to attend, including students and non-members. Please let me know with a short email if you plan to attend.
October Heating Plant Tour and General Branch Meeting
posted Oct 4, 2019
Location: Fort Saskatchewan Community Hospital
9401 86 Ave, Fort Saskatchewan, AB
Date: Tuesday, October 15, 2019
Time: 6:30 PM
Parking: Please use the main parking lot
Admission: Admission is $10 per person
PPE : Safety glasses and ear plugs are required
Hello everyone, we are back from summer vacation and ready for another school year. For October, we will be visiting the Fort Saskatchewan Community Hospital and mechanical area. This building was completed in 2012 and replaced the former Fort Saskatchewan Health Centre. This modern facility includes high voltage air handling and modular steam generation as well as a cafeteria, child health clinic and respiratory rehabilitation.
Anyone with interest is welcome to attend, including students. RSVP please if you are planning to attend as the space is limited to 16 visitors. Also for security and you are getting used to this by now, we will be sending a list of visitors' names to the hospital supervisor.
We look forward to seeing you all again Tuesday October 15th.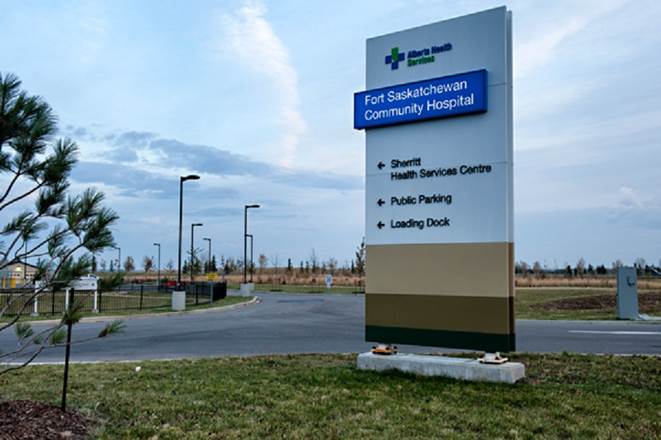 Genesee Unit 2 to Celebrate 30 Years of Reliable Service
posted Sept 2019
In October 2019, Genesee Unit 2 (G2), the first of three coal-fired units at the Genesee Generating Station, will celebrate 30 years of producing reliable electricity for Albertans. As it was known back then, Edmonton Power first proposed to construct a coal plant in the Genesee area in 1977 and the project was approved by the regulator in 1980.
Construction began in 1982 and by 1984 the powerhouse was completed before construction ceased later that same year due to regulatory constraints, which would delay the completion of the project for 18 months. At peak construction, approximately 800 workers were involved in the $880-million project. Originally scheduled to begin operations in 1987, the 430 MW G2 unit officially began producing power for the grid on October 1, 1989 and continues to supply an important source of baseload power to Alberta.
During a planned maintenance outage in 2020, G2 will receive a new Low-Pressure Rotor to further improve the unit's efficiency as part of the GPS program. The benefits of this upgrade will carry forward as the unit is proposed to be modified to enable operation with 100% natural gas and allow G2 to continue operating past the legislated phase out of emissions from coalfired generation by 2030. Genesee currently uses both gas and coal ("co-fire") up to 250 megawatts (MW) and has used natural gas as a supplement to coal since 2017.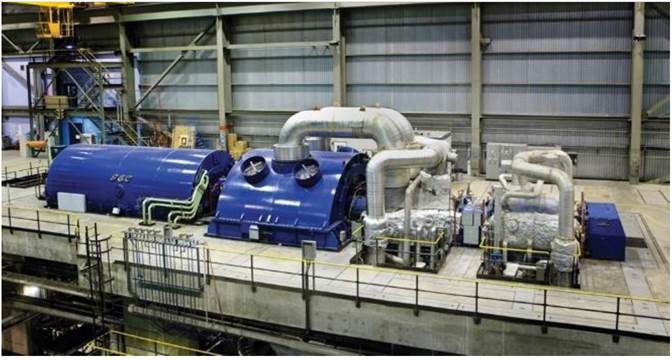 Genesee Unit 2. Photo and article courtesy of Capital Power.